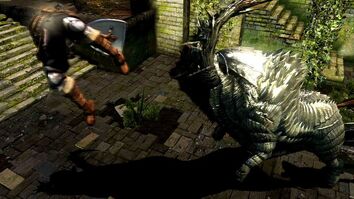 Welcome to the Dark Souls Wikia.
Edit
Welcome to the Unofficial Dark Souls Wiki. Due to the lack of english translated Dark Souls information on the internet this wikia was formed to help inform people about the unknown aspects of Dark Souls. If you happen to see any typos, wrong information or missing information, please feel free to add and share it with the Wiki members. If you are just getting started with Dark Souls and you need some assistance, I would start here.
About Dark Souls
Edit
Dark Souls is the latest Action Role Playing Game created by the famed niche Japanese development team FromSoftware, creators of such franchises as Armored Core, Tenchu, Otogi and Chromehounds. Dark Souls is published by FromSoftware in Japan and Namco Bandai in the rest of the world. Created to be the spiritual successor to Demon's Souls also created by FromSoftware, Dark Souls brings even more hardcore RPG action to the PlayStation 3 and XBox 360! See the Overview page for more information.